February 25, 2021
Breaking News: the Equality Act just passed in the U.S. House of Representatives! The Tampa Bay LGBT Chamber sends our thanks to Speaker Nancy Pelosi and House leaders who made today's historic passage of the Equality Act possible in the United States House of Representatives.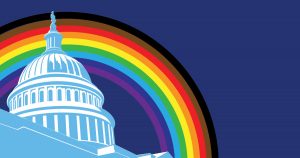 This act will ensure federal non-discrimination protections for LGBT people, promoting equal access to employment, housing, credit, public spaces and services, education, federally funded programs, and beyond.  TBLGBTC urges the United States Senate to act in the social and economic best interests of all Americans and pass the bill in their chamber.
Last week, President Biden urged Congress to swiftly pass this historic legislation, saying: "The Equality Act provides long-overdue federal civil rights protections for LGBTQ+ Americans."
"Years of hard work, advocacy, blood, sweat, and tears have gone into the fight for equality around the world and it is to the credit of all who have gone before us that we can say today that we are one step closer to our goal of full equality for all here in Florida." Says Justice Gennari, President & CEO. "Representing 250+ businesses, community groups, and individuals that identify as LGBTQ owned or allied across seven counties in the Tampa Bay Region, we can say with certainty that these protections are long overdue and will go a long way towards fighting discrimination in the workplace. It gives our business community and our allies peace of mind that they are protected and again, in a year that has brought our focus to diversity and inclusion, reinforced that these policies only enhance company culture and business outcomes.  We hope the Senate and President will do the right thing and make this essential legislation law."
The Equality Act highlights many of the inequities that have kept tax-paying, law-abiding LGBT citizens from achieving success. Our economy simply does not achieve all it can unless everyone is included and given a fair shot. We look forward to the essential conversations that benefit LGBT business owners, including protection from discrimination in government contracting alongside other diverse-owned businesses that will follow the full passage of this bill and we strongly endorse the Equality Act.
We urge you to contact Senator Scott and Senator Rubio to ask them to finally ACT on Equality! To contact them, click here.
In addition to the Equality Act, The National LGBT Chamber of Commerce is working with Congress and the Biden-Harris White House to expand economic development opportunities for America's 1.4 million LGBT business owners, including finally achieving the inclusion in federal contracting opportunities. This is an important step forward that will strengthen the economic benefits of the Equality Act by ensuring the American Dream is accessible to every LGBT American.
# # #
ABOUT TAMPA BAY LGBT CHAMBER:
The Tampa Bay LGBT Chamber began over 35 years ago to advance common business interests, economic growth, and equality in the workplace and society for its LGBT and allied businesses, corporations, and professional members by providing educational, networking, and community engagement.
Since 1983, the Tampa Bay LGBT Chamber has been premier voice of the Greater Tampa Bay Lesbian, Gay, Bisexual, and Transgender business community, representing over 250+ businesses, community groups, and individuals in seven counties, Hillsborough, Pinellas, Pasco, Manatee, Sarasota, Polk or Hernando. www.TampaBayLGBTChamber.org@TampaBayLGBTChamber
TBLGBT Chamber MEDIA CONTACT:
Justice Gennari
President & CEO
Press@TBLGBTC.org