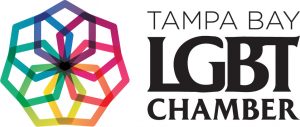 FOR IMMEDIATE RELEASE: June 1st, 2023
Contact: Justice Gennari, President & CEO
CEO@TampaBayLGBTChamber.org or 813-894-8588
TAMPA BAY LGBT CHAMBER KICKS OFF PRIDE MONTH WITH THE 2023 PRIDE IN BUSINESS LUNCHEON, PANEL DISCUSSION
Tampa, FL; Tampa Bay LGBT Chamber and over 350 of its members, stakeholders, local business executives, and elected officials will gather on June 1st to kick off Pride month and celebrate the 40th Annual Pride in Business Luncheon presented by CAN Community Health! The month of June is a time of celebration and advocacy for the LGBTQ+ community. Businesses of all sizes are recognizing the importance of equity to stay authentic, relevant, and profitable. It is necessary to create and maintain initiatives that promote the acceptance of LGBTQ+ individuals throughout the year, not just in June.
Panelists Rogelio Capote (CAN Community Health), Sheriff Chad Chronister (Hillsborough County Sheriff's Office), Cynthia Colon (GTE Financial), and Bemetra Simmons (Tampa Bay Partnership) will deliver a lively discussion about the best methods and resources to ensure that these initiatives are successful and long-lasting. They will also explore how businesses can demonstrate their support of the LGBTQ+ community in June and beyond.
Speakers:
Justice Gennari, President & CEO for Tampa Bay LGBT Chamber
Mayor Jane Castor, City of Tampa
Congresswomen Kathy Castor, 14th District
Deborah Hawkes, EVP and Chief Operating Officer for CAN Community Health
"Diversity is good for business, it fuels business success by bringing together unique perspectives, experiences, and talents. By embracing diversity, companies gain a competitive edge, foster creativity, drive innovation, and ultimately boost their bottom line." Said Justice Gennari, President & CEO for Tampa Bay LGBT Chamber. "What we heard from today by our incredible panelist is just that, and how it keeps Tampa Bay ranking on top for Tech Startups, economic diversity ratings, HRC Equality Index, & much more."
"At CAN Community Health we believe that excellent healthcare starts with a foundation of inclusion, compassion, and respect for all. Inclusion and diversity have and will always remain the basis of our daily practices within the CAN family for our clients, patients, and staff. It is truly an honor to partner with the Tampa Bay LGBT Chamber on this impactful event", states Rogelio Capote, SVP and Chief Communications Officer for CAN Community Health.
###
About the Tampa Bay LGBT Chamber

 Since 1983, the Tampa Bay LGBT Chamber mission is to advance common business interests, economic growth, and equality in the workplace and society for its LGBTQ and allied businesses, corporations, and professional members by providing educational, networking, and community engagement.
The Tampa Bay LGBT Chamber has been premier voice of the Greater Tampa Bay LGBTQ & allied business community, representing over 600 businesses, community groups and individuals in seven counties, Hillsborough, Pinellas, Pasco, Manatee, Sarasota, Polk, or Hernando. www.TampaBayLGBTChamber.org  @TampaBayLGBTChamber
About CAN Community Health:
The mission of CAN Community Health is to inspire and contribute to the health and well-being of those affected by HIV, Hepatitis C, and other sexually transmitted diseases by providing the best care through outreach, integrated clinical practice, advocacy, education, and research. www.CANCommunityHealth.org