LOOKING BACK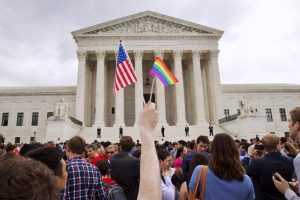 Three years ago on this day, the U.S. Supreme Court determined that discrimination in the workplace on the basis of sexual orientation or gender identity is prohibited under the federal civil rights law of 1964.
The 6-3 ruling, with Chief Justice John Roberts joining the majority, stated that "sex" is a unique element yet is connected to both sexual orientation and gender identity. This historic decision is the most substantial recognition of LGBT rights in the nation since the 2015 Supreme Court ruling that allowed same-sex marriage and the first decision ever concerning transgender civil liberties.
Despite this ruling, LGBT discrimination was still lawful in a majority of the states. Only less than half of the states had laws in place that forbid workplace discrimination based on sexual orientation or gender identity. Data from the Williams Institute reveals that the estimated number of LGBT Americans is 11 million.
Read more about this SCOTUS ruling:
LOOKING AHEAD
In June 2023, the Supreme Court is expected to decide a number of cases that will impact everything from student debt relief to LGBTQ+ discrimination.
LGBTQ+ Discrimination (303 Creative v. Elenis)
In December, the court heard oral arguments in the case of Lorie Smith, a website designer who owns a company called 303 Creative and is challenging a Colorado law that prohibits businesses from discriminating against LGBTQ customers. Smith, a Christian, has argued she should not be forced to design wedding websites for LGBTQ couples.
With its ruling, the court will shape whether American businesses can legally deny service to LGBTQ people under the First Amendment.
303 Creative v. Elenis echoes the 2018 Masterpiece Cakeshop v. Colorado Civil Rights Commission case, in which the Supreme Court sided 7-2 with a baker who refused to make a wedding cake for a gay couple.